Roofing Services Maitland
Professional Roofing Services in Maitland
Call The Roof Replacement Experts
Free estimate, no obligation
Please fill out the online form
Maitland Metal Roofing Solutions
Roofing Services Maitland
Is your roof in need of a little TLC? Is it starting to look worn out and has lost its appeal? We can take a look! Our team have been the local provider of roofing services in Maitland for decades. In this time, we have replaced hundreds of roofs in the Hunter region and surrounding areas. It provides us with a wealth of experience, which sets us apart from other roofing contractors in the area. Our team knows roofs inside and out.
Leaving your faulty roof is risky as it can become a huge liability for your home. A damaged and weathered roof seriously threatens your family's safety and your property's value. Save yourself the trouble and opt for a roof replacement to bring it back to a safe standard. Our team can replace your old roof with sturdy Colorbond metal roofing and give it the much-needed upgrade and add value to your home. 
Maitland Metal Roofing Solutions
Discover the difference with our roofing services in Maitland
At Maitland Metal Roofing Solutions, we aim to provide premium roofing services at competitive costs for residential and commercial clients in Maitland. Our reputation is built on efficient completion of projects, accurate quotes and our ability to make your roofing dream a reality. We work hard to ensure your experience with us is nothing but professional and stress-free. So if you require any roofing services in Maitland, be sure to get in touch with us today.
Learn All About Our Roof Replacement Services
We offer a complete range of roof replacement services with the same level of quality and services that you have come to expect from Maitland Metal Roofing Solutions.
Tile to Metal Roof Replacement
Many homeowners have cemented tiled roofs on their houses in Maitland. As years go by, they become brittle and start cracking and leaking. It is a common occurrence in older homes in Maitland. In most cases, the best solution is tile to metal roof replacement. Switching from tiles to metal is a big project that should be left to professionals. 
Maitland Metal Roofing Solutions has been dealing with tile to roof conversion for many years throughout Maitland. We understand that when a tiled roof is beyond saving, a metal roof replacement can save you a lot of hassles in the future. Our roofers can inspect your damaged roof, remove the existing tiled roof, and replace it with a brand new Colorbond metal roof. The new roof is sure to bring great comfort and improve your home's energy efficiency.
The evolution in the roofing industry offers endless possibilities when it comes to metal roofs. In time, metal roofs suffer from extreme damage that can be repaired. But, if you have already done a few repairs over the years and it still keeps failing you during storms, you should consider a roof replacement job. 
Modern metal roofing materials such as Colorbond are a sound investment for the long term. The versatility, durability and resistance to rusting and harsh weathers make it a popular choice among clients in Maitland. We have clients who have replaced their old metal roofs with Colorbond and are glad they made the change. Our expert roofers can also add several additions to your metal roofs, including skylights, ventilation, solar panels and more.
Asbestos refers to different minerals that were once used in building materials but were not banned in Australia at the time. When asbestos-containing roofing materials are disturbed or moved, they release harmful fibers damaging to health when inhaled. When the health hazard of asbestos became known, they were banned. If your house was built before the 1980s, the chances are that your roof contains asbestos. 
We know how important it is to ensure the safety of you and our roofers when removing asbestos from your roof. Our team follows the strictest statutory regulations and agency guidelines when removing asbestos. Our team ensures your asbestos roof removal is done with the minimum fuss and cost. Once the asbestos roof is removed, we can replace the roof with a Colorbond metal roof that is non-toxic, non-corrosive and impervious to chemicals.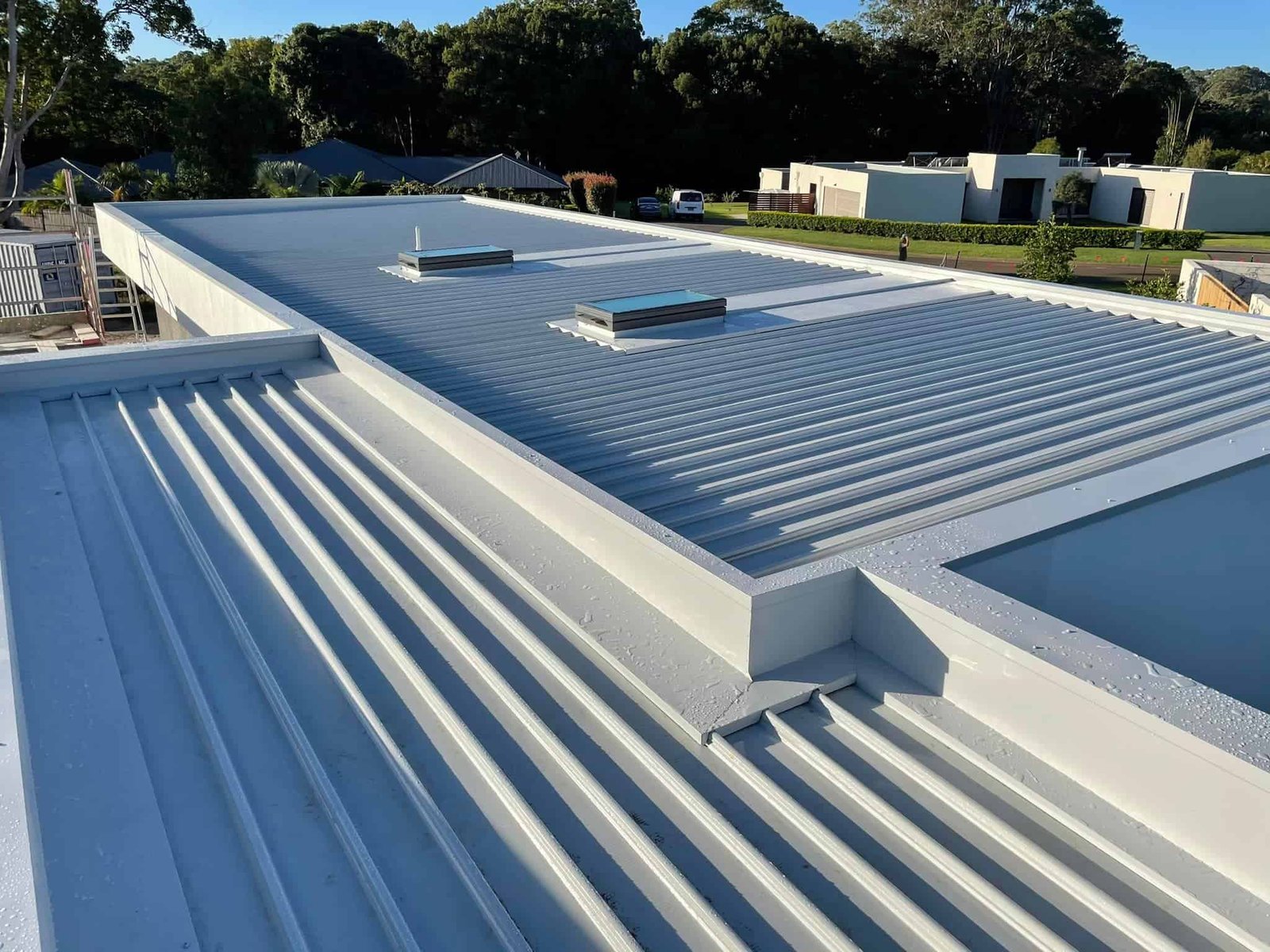 Commercial Roof Replacement
Have your commercial buildings experienced roofing issues, or have they begun to leak after a storm? A damaged commercial roof is not ideal at the least and can possibly be dangerous at the worst. Unfortunately, there comes the point when patching your roof can significantly become more expensive than a replacement. 
Our roofing experts can advise you when your roof reaches the point beyond repair, and a roof replacement should be considered. Because of their durability, metal roofs are among the most suitable systems for commercial spaces in Maitland. Our professional roofing team can oversee the planning, design, installation through completion. We understand you need to focus on running your business and not the details of roof replacement. That's why we work smart, hard and fast to make it as simple as possible for you.
Insurance & Hail Damage Roof Replacement
Hail storms affect diverse roofing materials differently. Whether your installation is made of concrete, clay, slate or metal, a hail storm can be quite damaging. The roof's integrity may be seriously compromised, and you must act quickly. The good news is that your insurance company will cover the cost of a new roof. 
Our expert team at Maitland Metal Roofing Solutions uses years of experience handling paperwork, inspection and communication needed for a quick turnaround time. We ensure all storm damages are documented for your insurance provider. Our expert will be there when your adjuster shows up to ensure the damages are being fairly evaluated. Once the claim has been approved, our roofing team will give you the best quality metal roof that meets professional standards.